"Greetings, Axiomatic Roulette Colleagues of Mine,

As all of you know online casinos are grabbing a lot of new players now and offer more and more exciting games and opportunities. I was a real skeptic because I know how easy it is to make a program that simply won't let you win, but one thing that really caught my attention is the appearance of live online roulette. It is now offered at several casinos online and features live dealers so you can play real roulette at the comfort of your home. Only thing required is a faster internet connection for the live streaming video. It seems quite appealing as you can use all the extra tools like spreadsheets and notes and it seems perfect to use with the super roulette strategies from the main site.

I would like to hear your opinions about this subject. I live in Europe so the whole U.S. online gambling regulation is currently not my concern...

You can also chat with the dealer. Here is a screenshot of the game from a popular casino You can't see the dealer as the camera zoomed on the wheel at that moment."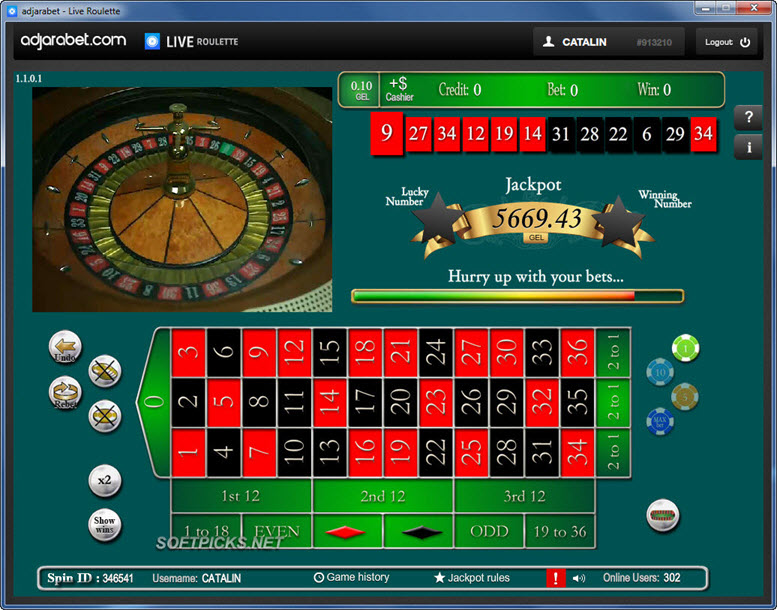 "Axiomatic one, be careful with Online Casino. First when you chose a Online Casino, or a Bookie check if is affiliate to IBAS. IBAS is an institution where you can file complaints."
"Hello axiomatic one,

I also play online live roulette. They cannot cheat the game, since we are looking at wheel all the times. Would advise nevertheless to be careful in what casinos you play. Make sure you get paid. Monaco Gold pays fair, but don't accept any bonuses, or you will have to wager for the rest of your days

In all chaos there is a cosmos, in all disorder a secret order. by Carl Jung"
"Playing live online roulette is a great way to almost get that real casino excitement, if you enjoy casino games. I believe that playing an online roulette is a game of luck. Cheating cannot be done in playing online roulette but we must be very careful while playing casinos."
"Another old post, but for those who read it - DON'T BOTHER with this [live roulette, online gambling]. I actually thought about this being a good idea if someone were to do it. We want Real spins, real wheel, real everything with a live stream. Have you ever heard of "time delay" or something similar? Have you ever heard of magnets or manipulating devices under or beside the table? How do you know the ball is non-metallic or a plethora of other potential scamming techniques?

I wouldn't touch this with a PENNY. It may be interesting to watch if you are really bored but I can't see anyone betting away from a real joint where there is no evidence of anti-fraud protection."
"There was mention in an old post somewhere about the roulette machine. It is not a digital - slot-like - machine - but an actual full wheel with no croupier. It has 8 seating positions that you can enter your bet from. It is all electronic. The wheel speed and ball ejection speed is supposedly random - but programmed with some 30 different initial velocities etc. I like the setup but am still concerned about the fact that the wheel COULD be slowed or sped-up at anytime. I have been told that this is not done. Proof anyone???

However, I like that it has a $1 minimum ON THE INSIDE and I believe a $100 maximum. Maximums - can they not be somewhat played with? Meaning if you have $100 - and it is the MAX - on a few inside numbers as opposed to larger amounts on the outside - could you not then put splits and streets and quads and lines etc with large amounts as well which would act as larger flat bets on a single number - thus going over the "limit?" I don't think I would want to play a system that needed to go from $10 to upwards of $1000 for an outside bet. I don't know what the maximum outside bets are in Ontario. I thought they had spans like $15 to $1500 or $25 to $5000 but I'm not sure."

"I am cynical about these things too, but having played and watched a while it seems reasonable to me. I have a few data files that I mean to check with SkipSystem program, I have only gotten around to looking at one so far, but I would be willing to wager that someone has used this roulette program to the detriment of these gambling websites... really!

They also have an "auto-wheel" (apparently pneumatic) which spins faster than the version with the presenter. Now this is unnerving! How beautiful if it isn't rigged!"
"As I said on another post, the issue with online casinos is size and location, when you have multiple locations, licenses, complains boards, industry awards, and public companies i think you have something... Leave the US alone for now they will bring some great solution mean while stick to the rules and choose a great online casino, the industry is becoming quite big, select, select select... Well.. look Europe, no promotions here..."
The United States government takes most issues very seriously. They could simply say: "Let's regulate the online gambling!" But they realize what a serious and difficult and costly issues that is. I believe they can regulate online gambling in the U.S. offering maximum integrity. The task would be costly, but there is enough money in the U.S. of A. Then, you would have a hard time finding players to play at online casinos outside the United States jurisdiction! Like it is now with the physical casinos: Everybody flies to Las Vegas! Although, Las Vegas is a hell for the skilled players. Read this:
Online Advertising: Internet, Gambling, Poker, PokerParty, Real Money.

I want to add to this stuff the electronic roulette wheel. They may be installed in physical casinos. I expect they will be installed big-time in brick-and-mortar casinos, especially after the economic recession that engulfed the world beginning 2008. The electronic roulette cuts off a whole lot in costs, especially personnel costs. Also, the electronic wheel is a whole lot faster than mechanical, human-operated, roulette wheels. Yet, I strongly advise against the electronic roulette games. The player does NOT see a thing. No see, no trust, I always sez. They must make public the source code of all electronic roulette wheels.

Reliable third-party auditors must endorse the source code. That is, the auditor must confirm that the source code they read and understood was implemented in the chip of a particular electronic roulette wheel. Secondly, the electronic roulette wheels allow for UNACCEPTABLE margins between the minimum and the maximum bets.

A real gambler should stay away from casino tables where the ratio between the min and the MAX is under 128; e.g. if min is $10, the MAX must be at least 1280. A reasonable casino table should read: ~ minimum bet: $10 ~ MAXIMUM bet: $1500. The electronic roulette wheels are programmed for the INSANE tenfold margin. That is, $1 minimum bet and $10 maximum bet! The kokodrilos (a.k.a. big-time gamblers) should stay (far) away from such tables! Like they stay away from the electronic (slot) blackjack machines after I posted my warnings. Those places are very cold and mostly empty these days in physical casinos.

The old suckers are still playing big at the regular slots. They don't give a damn that the slots are programmed. The slots don't give a damn on mathematics, probability, or odds. The odds are simply programmed to swallow at least 10% of all inserts. Bigger problem is, the takeout is a lot larger! They count a real push as a win! For example, you insert one coin and the result is one coin. If you cash out, you just get your coin back. It is a push, but the machine counts it as win for the player.

I assume the real house edge at the regular (play-for-dummies) slots must be 50%, or higher! Did you know that casino percentage winnings at blackjack are some 20%, while, they tout, the mathematical odds are under 2% with basic strategy? Really? The roulette percentage winnings are at least 20%? Read this damn unsettlingly stuff: